Fire Extinguisher Installation is the first part of an organisation's fire extinguisher journey.
When you buy a fire extinguisher, you'd be forgiven for thinking that is job done.  You can simply take it out of the box and it's ready for use.  Well, this isn't strictly true, and here at Right Action, we are here to help navigate you through what you need to do.  Installing and Commissioning your new Fire Extinguisher is a key legal requirement, and this is something that you can trust Right Action to sort for you.
What is meant by Fire Extinguisher Installation?
Fire Extinguisher Installation is the start of the road when it comes to your organisation's fire extinguishers.  It typically works something like this…  At Right Action, we get a call from a new customer or an existing customer enquiring about the need for fire extinguishers on a new or existing site.  Our engineers will visit that site, assess what extinguishers are needed and quote for the sale of new fire extinguishers.  That quote will also include the price for our engineers to 'commission' and 'install' those new fire extinguishers.
'Commissioning' and 'Installing' is where British Standard 5306-3 comes in.  Commissioning a new fire extinguisher involves our Service Engineer doing the following:
Once this is done, you will have peace of mind that you are complying with legislation and that your extinguisher is ready to be used when called upon.  It is also nicely set up for the annual servicing that is also a legal requirement.
As for installing your new fire extinguisher this simply means situating or positioning it where our experienced Service Engineer believes it needs to be.  This may involve fixing a bracket to a wall and hanging it.  It may also involve quoting for a stand and positioning the unit on a stand.  Either way, you can be sure that our experienced Engineer will choose the right option for your Fire Extinguisher Installation.
FREE Fire Equipment Check
One click here will
start the process of a
FREE & unbiased check
of all the fire & safety
equipment within your
business.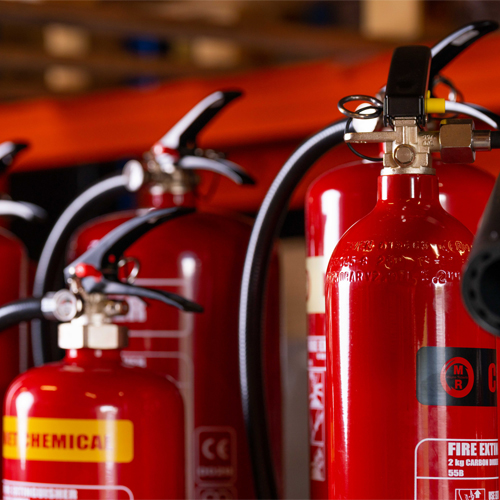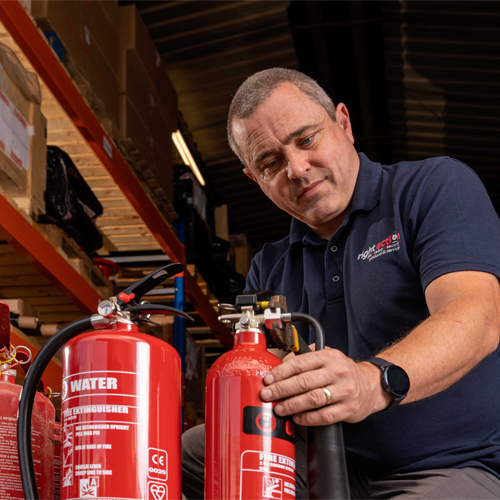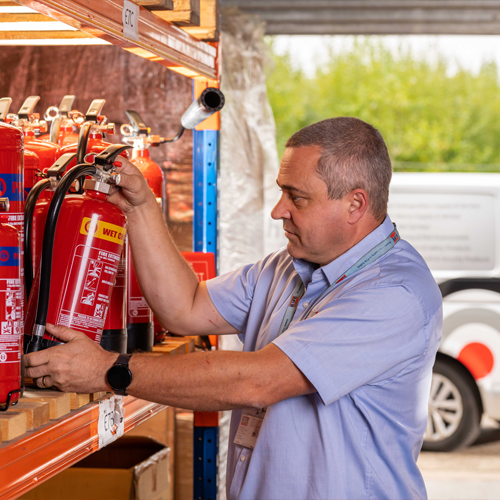 At Right Action, we take great pride in the quality of the fire extinguishers that we sell.  We only sell extinguishers that hold all relevant approvals and which we have tested through use in the field.  Every year we install, commission and service thousands of fire extinguishers.  We know all the different types and brands.  With this in mind, we only sell what we consider to be the best fire extinguishers.  You can be sure that if you choose us for your Fire Extinguisher Installation, you will receive an excellent product backed up by a fantastic install service.
One of the key benefits of choosing Right Action for your Fire Extinguisher Installation is that you will be treated like family, receiving a personal, local service.  We cover Lincolnshire, Yorkshire, Nottinghamshire, Derbyshire, Leicestershire and Rutland.  If you need new fire extinguishers installing, we want our engineers to be able to assess the job first so that they can properly advise you.  With our local coverage, this is something that we can do.  We don't try to stretch ourselves too thin.  The feedback that we have had from our customers is that this is one of the big reasons to choose Right Action.
So, what are you waiting for? To experience quality service and great value for your Fire Extinguisher Installation, take the
Right Action

and call our friendly team on 01724 747230.

Alternatively, fill in the Contact Form below and we'll be back in touch right away.