Emergency lighting is installed to provide illumination in the event of a mains power failure.
You can have emergency escape lighting and emergency standby lighting. Emergency escape lighting is the main focus of the work we do here at Right Action as it provides a fundamental part of a building's fire safety plan.
The Regulatory Reform (Fire Safety) Order 2005 places clear responsibilities for fire safety on those in charge of non-domestic buildings and having adequate emergency lighting is a key part of that.
This means that Emergency Lighting Installation is a very important service and providers should be chosen with great care.
Emergency Lighting - The Key Standards
The main British Standard for emergency lighting is BS5266-1:2016. This is known as the Code of Practice for Emergency Lighting. This contains all of the key provisions that we follow when undertaking Emergency Lighting Installation.
FREE Fire Equipment Check
One click here will
start the process of a
FREE & unbiased check
of all the fire & safety
equipment within your
business.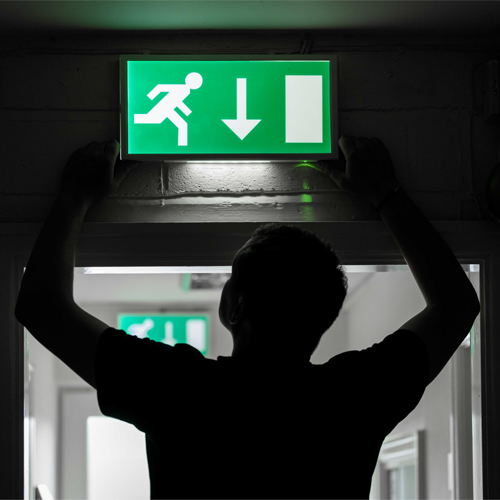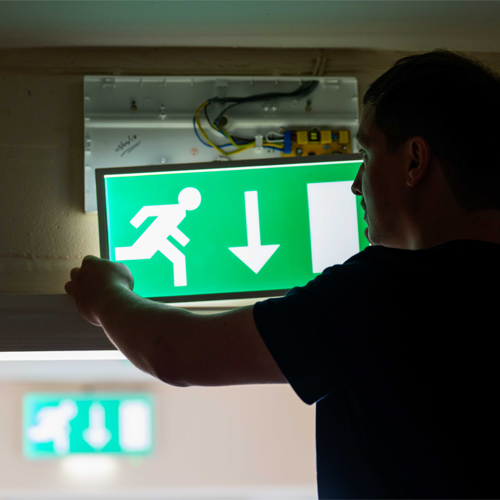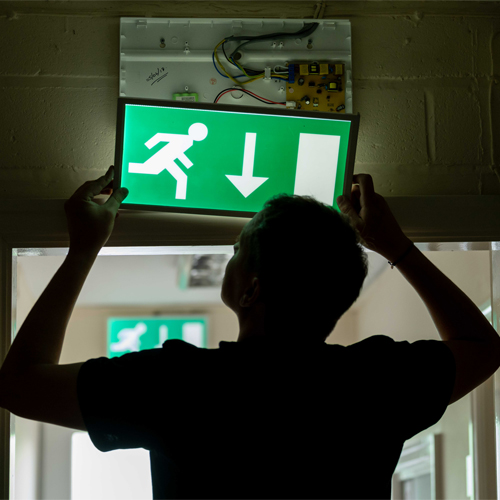 What to expect from an Emergency Lighting Installation
The precursor to a successful Emergency Lighting Installation is usually a Fire Risk Assessment. This document will have analysed the building, its use and its occupants and will have come to a variety of conclusions on how best to improve fire safety and mitigate risk. Part of this document will specify what Emergency Lighting is required as part of the overall plan.
When engaging Right Action, we will analyse your Fire Risk Assessment and any other fire safety planning documents.  This will allow us to identify what type of emergency lighting is required, their suggested location and quantities.  We can then identify what we believe to be the key products necessary together with the installation cost for your approval.  We will ensure that we involve you in this process throughout.  If you don't have a Fire Risk Assessment, then don't worry, we can also help you with that too.
Once this process has been concluded, and you are happy with the suggestions, then we will carry out the Emergency Lighting Installation itself.  We will ensure that this is carried out by fully qualified electricians so that you have complete peace of mind over the quality of this work.
The best way to get us is to call 01724 747230 and to speak with one of our friendly team.
If you prefer to message, then please use our Live Chat and we will reply straight away.
Does all of this sound good?  Right Action is a well-established, family business putting customer service at the forefront of everything that we do.  If you are based in Lincolnshire, Yorkshire, Nottinghamshire, Derbyshire, Leicestershire or Rutland then please get in touch to discuss your Emergency Lighting Installation requirements.