Fire Alarm Installation, and the Commissioning of the system, is an important issue for all people responsible for commercial buildings to consider.
As a result of the Regulatory Reform (Fire Safety) Order 2005, it is clear that commercial and non-domestic buildings require a fire alarm and detection system which is competently fitted and installed.
At Right Action, we offer the service of Fire Alarm Installation to give peace of mind to those responsible that the system present in their building is properly installed and commissioned. There is no point in having a system if you cannot be 100% confident that it will work when called upon. This is why we would love you to choose us to help you get this confidence.
Fire Alarm Installation Explained
Fire Alarm Installation requires a thorough understanding of the key British Standards. BS5839-1:2017 is the relevant Standard for non-domestic premises, whilst BS5839-6:2019 covers the particular requirements of domestic premises.
When you choose Right Action for your Fire Alarm Installation, the simplest way to explain what happens is as follows. We take the fire alarm design, we spend time digesting and fully understanding it, and we then implement and install it to its exact specifications. All of this requires experience and competence which you can be certain we will provide. We work with trained electricians who have specific understanding of fire alarms.
Put simply, with a Fire Alarm Installation, we can work in two ways:
Firstly, if we are involved in the design of the system, then we have a 'head-start' by having a greater knowledge of the plans and the building and we complete the Fire Alarm Installation as a follow-on to that earlier work.
Secondly, if we are not involved in the design of the system, then this isn't a problem for us either. You can still use us for the Fire Alarm Installation provided that we are supplied with all of the design plans together with the contact details of who produced these plans. That will then allow us to concentrate on the Fire Alarm Installation but contact the designer in the event of any queries.
Either one of these approaches works for us, and we are happy to fit into your particular requirements.
FREE Fire Equipment Check
One click here will
start the process of a
FREE & unbiased check
of all the fire & safety
equipment within your
business.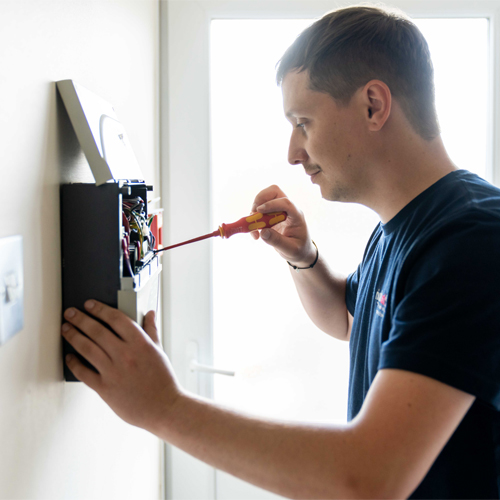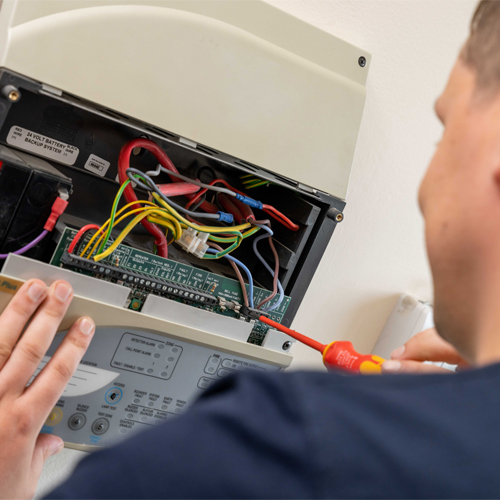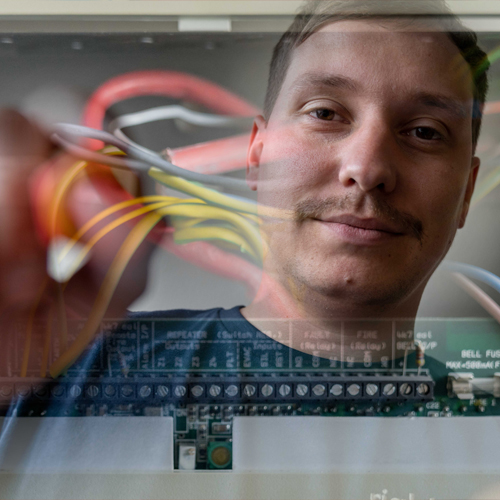 Where does commissioning come in?
Once the Fire Alarm Installation has taken place, the system still isn't ready to simply hand over to the person responsible for the building. Instead, it is important that the system is 'Commissioned'.
Commissioning involves a competent person undertaking a series of tests on the system to ensure that it operates consistently with its design and in accordance with the relevant British Standards. As part of the Commissioning, we would review the system as against the original design plans and we would test all key elements of the system to make sure it is ready to use in accordance with its original designs.
In a nutshell, Fire Alarm Commissioning is the bridge between the design/installation and the handover to the person responsible for the building. It is a hugely important step, and a key service that we can offer to you.
In our view, we offer an excellent choice for your Fire Alarm Installation and Commissioning. We provide a competent, friendly and reliable service to businesses across Lincolnshire, Yorkshire, Nottinghamshire, Derbyshire, Leicestershire and Rutland. Our pricing offers great value without compromising on competence.
If this sounds good, we'd love to meet up and get your Fire Alarm installed. Take the
Right Action

and call our friendly team on 01723 747230.

Or, if you're in a hurry, please fill in the Contact Form and we will be back in touch with you in short order.