Fire Extinguishers are a vital part of an organisation's fire safety plan, they can be a first line of defence in the event of an emergency.
Fire Extinguisher Servicing, therefore, is very important in ensuring that your equipment is fit to use when required. It also happens to be a legal requirement. Be sure to choose Right Action for your Fire Extinguisher Servicing requirements and rest easy in the comfort of a service provided by BAFE approved engineers with no fixed contract or hidden extras.
Who needs to think about Fire Extinguisher Servicing?
Fire Extinguisher Servicing should be a consideration for anyone owning a fire extinguisher. Under British Standard 5306-3, fire extinguishers must be maintained annually. Therefore, no matter the size of your business or the nature of your operations, Fire Extinguisher Servicing should be a key item on your fire safety calendar to comply with the British Standard 5306-3.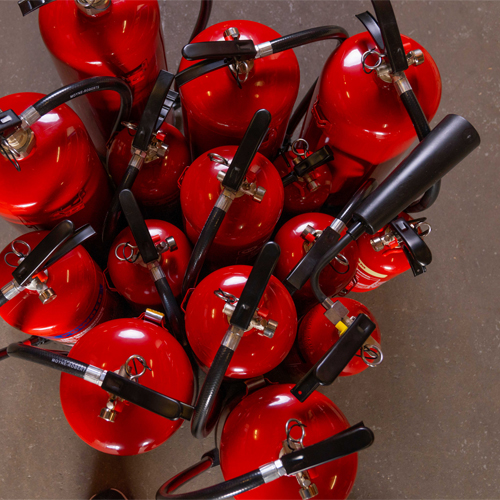 The UK servicing standard BS 5306-3 puts the responsibility on the user (i.e. the company) to use a competent person to perform the annual inspections, install, commission (skilled checks made to the extinguisher on-site), service and test discharge fire extinguishers.
What does Fire Extinguisher Servicing Involve?
Most organisations are required to undertake their Fire Extinguisher Servicing annually, although some risks warrant twice yearly Fire Extinguisher Servicing. When our engineers attend your site, what can you expect? Well, let's look firstly at what is involved in the Basic Annual Service:
Beyond the Basic Annual Service, fire extinguishers will also require an Extended Service. Typically, this will be at five years. The Extended Service is a lot more thorough and involves fully discharging and refilling the extinguisher. This is a service that we can offer but, often, it is more cost effective for a replacement extinguisher to be offered at that stage, called a Service Exchange. We would also attend to the recycling of the old extinguisher at that stage. All of these options are discussed with our customers.
FREE Fire Equipment Check
One click here will
start the process of a
FREE & unbiased check
of all the fire & safety
equipment within your
business.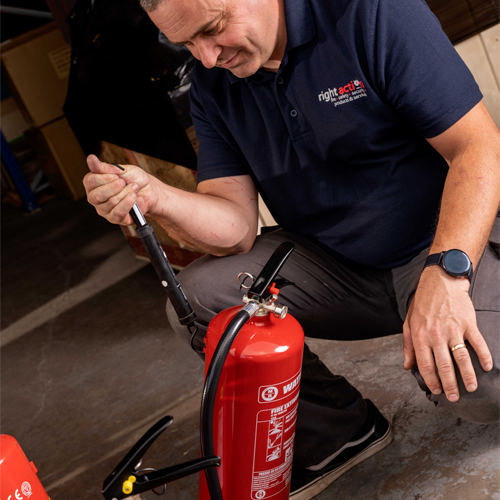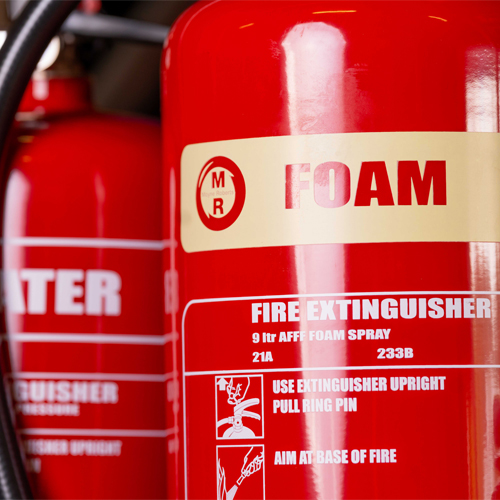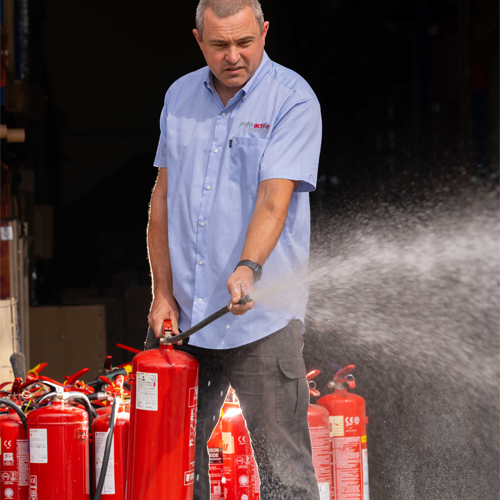 What does Fire Extinguisher Servicing with Right Action look like?
Right Action only offer the best in Fire Extinguisher Servicing. All of our Service Engineers are BAFE approved. This means high quality training and regular audits to ensure that their performance is top notch. Our in-house Admin Team are experienced and attentive and keep you nice and clear on when your Fire Extinguisher Servicing is due and what time you can expect to see our Engineers. By using Right Action, you can have peace of mind that you will never miss a service, it is our promise that we will always remind you. Just one less thing for you to worry about.
With Fire Extinguisher Servicing you want to avoid nasty surprises. Therefore, all our pricing has no hidden extras. The small consumables needed to service fire extinguishers... they are all included in the price. You will be nice and clear on what you are paying. We also keep you posted in advance when your extinguishers are due a more costly Extended Service or Service Exchange replacement. For organisations with lots of extinguishers this is ideal for budgeting.
Finally, by choosing Right Action for your Fire Extinguisher Servicing you will be getting a personal, local service. Right Action covers Lincolnshire, Yorkshire, Nottinghamshire, Derbyshire, Leicestershire and Rutland. Our engineers know these areas like the back of their hands, we don't try to stretch ourselves too thin. You can be sure that you'll receive a personal service, in fact, we are so confident that we don't tie any of our customers into fixed contracts.
So, for quality service and great value, take the
Right Action

and call our friendly team on 01724 747230

Alternatively, fill in the Contact Form below and we'll be back in touch right away.